Microsoft Office 365 Personal 32/64 Bit English - Eurozon 1 Year Subscription Software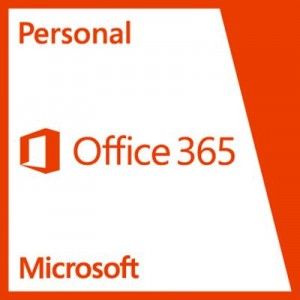 Microsoft Office 365 Personal 32/64 Bit English - Eurozon 1 Year Subscription Software
Office 365 Personal can be used on your PC, Mac, providing ample versatility for your home computer or home office. It can also be used on your tablet or iPad, making it easier than ever to keep working whether you're at home or on the move. Office 365 Personal is ideal for the individual requiring access to their files anywhere.

Key Features
1 user on 1 x PC/ Mac PLUS 1 x Tablet/ iPad
1 year subscription includes the latest full Microsoft Office applications:

Word
Excel
Powerpoint
OneNote
Outlook

Plus

20GB OneDrive online storage
60 Skype World minutes per month
Easily access your documents with Office Mobile apps for iPhones, Android, and Windows phones

Package Type
Download Key Code

Warranty
1 Year

Notes
Not for use in any commercial, nonprofit, or revenue-generating activites, or by any government organisation.
[1] Application availability and features vary by platform and device. Publisher and Access available on PC only. OneNote for Mac is available as a separate download from the Mac App Store.
[2] Skype account required. Excludes special, premium, and non-geographic numbers. Calls to mobile phones are for select countries only. Skype world minutes available in select countries. See FAQ for details.
[3] See office.com/information for applicable devices. Internet connection required. Internet and mobile telephone usage charges may apply.
[4] Each additional person you share your subscription with can get 20 GB of OneDrive storage, plus PC/Mac and mobile installs against those available.

Compatible with Windows 8.1, Windows 7, Windows Server 2008 R2, Windows Server 2012 or Mac OS X 10.6 or later. Does not run on Windows XP or Vista.

Reviews